Gang Show 2023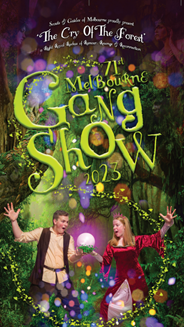 Melbourne Gang Show is an annual youth musical presented by the Scouts and Guides of Melbourne. Established in 1953, it is a training activity of Scouts Victoria and Girl Guides Victoria, providing young people with practical experiences of performance and stagecraft. It is packed with loads of fun, fantastic sets and costumes and catchy songs and dances. Melbourne Gang Show is held at The Besen Centre, Station Street, Burwood.
This year the following Moonee Valley District members are performing in the show:
Martyn Arends – Keith Farquhar Rovers
Jinx Gey – Monash Venturers
Oliver Brooks – 15th Essendon Sea Scouts
So come along with your family and support the Melbourne Gang Show.
To take advantage of the group ticket price of $20 per ticket, order and pay for your ticket(s) here. Your ticket(s) will be emailed to you once we get them.
Our Group bookings are the following dates:
Friday 23 June @ 7.30pm and
Saturday 24 June @ 2:30pm
Venturers can book for the Venturer night (show and party) on the Friday 23 June at a cost of $28 per ticket.
The show runs from 16 to 24 June, 2023. If you would like to attend the Melbourne Gang Show, but are not available on the 2 group booking dates, then you can head to the Melbourne Gang Show site to purchase tickets directly. Don't forget to "attribute the ticket" to one or more of the Moonee Valley District member performing in the show.
---
District Events
Check out the events run by Moonee Valley District
Scout Groups in the District
Click the logo for Scouts Victoria contact page; click the name for the Group's own website.