Cub Scouts – You're Invited!
Camp Theme: "Pirates of the Pines"
When: 6:00pm Friday 14th February
to 12:30 pm Sunday 16th February 2020
Where: The Pines Scout Camp, Altona Road, Altona, Victoria
Cost: $45.00 per Cub (covers food, camping & activities)
Please arrive in full uniform (Shirt & Scarf)
This is an opportunity to gain experience in sleeping away from home in tents, learning new skills and meet other Cubs from Moonee Valley District.
A full fun program from Friday evening to Sunday morning will introduce some new Cub Scout skills, including new program methods.
Please purchase your ticket by 7th February 2020 (make sure to note any dietary requirements).
Tickets can be purchased via TryBooking website using this link:
There is a Saturday "Day Pass" this is for Cubs wishing to only attend on the Saturday 8.30am to 5.00pm.
CareMonkey invitations will be sent once you've confirmed you are attending.
If your parent/s can help out with setup, pack-up, meals and activities, please ask them to let your Leader know and what days/times they are available.
It is expected that Cub Scouts will have had their evening meal before they arrive on Friday.
How to get to The Pines Scout Camp (adjacent to PA Burns Reserve).
Access via Millers Road > Civic Parade > Altona Road > Pines Scout Camp Road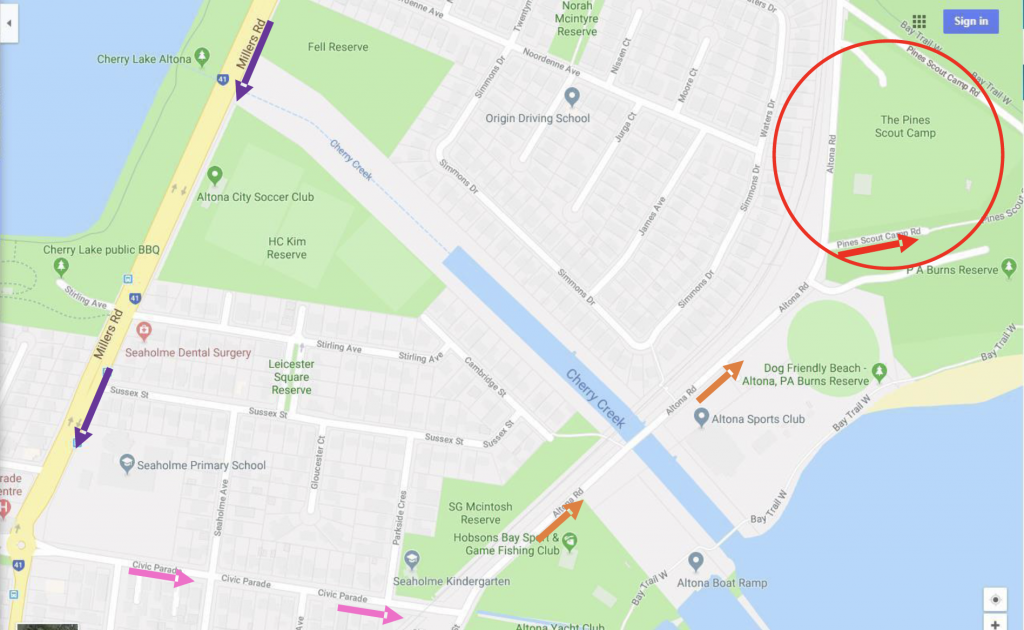 WHAT TO BRING:
BEDDING

Sleeping Bag
Pillow (in pillow case)
Blanket
Stretcher
Self-inflating/Foam roll Mat
Favourite Teddy Bear/Stuffed Toy
CLOTHES

Change of clothes for each day (weather appropriate)
Underwear
Socks
Spare set of underwear & socks
Jumper/Hoodie
Pyjamas
Bathers for possible water activity
Suitable footwear for walking (i.e. runners) x 2
Crocs or thongs for showering in
OTHER ITEMS

Toiletries (toothbrush, toothpaste, soap, deodorant, etc, no aerosol/spray please)
Towel
Dilly Bag (plate/bowl/cup/knife/spoon/fork & Tea Towel)
Torch
Plastic bag x 2 (for dirty clothes & shoes)
DAY PACK containing:

Water Bottle
Cub Scout First Aid Kit
Sun Block
Insect Repellent (roll on, no aerosols or sprays please)
Hat
Raincoat
DO NOT BRING:
Electronic Devices (games, cameras, phones, etc), Swap Cards, Money, Pocket Knives, Biscuits/Lollies/Chocolate/Snacks, etc.
MEDICATIONS
If you have any medication that you may need on the camp this is to be clearly labelled with: Name, Dose, etc and handed to the First Aid Team upon arrival.
Please make sure that CareMonkey is also up to date.
If you have an Epi-Pen or Puffer, please keep this with you at all times and also provide a spare (also clearly named) to the First Aid Team when you arrive.
PLEASE ENSURE EVERYTHING YOU BRING IS NAMED!
If you don't own/have access to any on the items on the above list, please contact your Cub Scout Leader to organise a loan of these from your Scout Group.